Mongolian Mining Corp (Hong Kong: 975, OTC: MOGLF): A High Profit Margin Play With Room To Grow
Mongolia is a small country rich in natural resources. When it comes to coal, the country is ranked fairly high among coal producers, with estimated coal deposits of up to 152 billion tonnes. Coking coal accounts for about 35 percent of the country's coal deposits.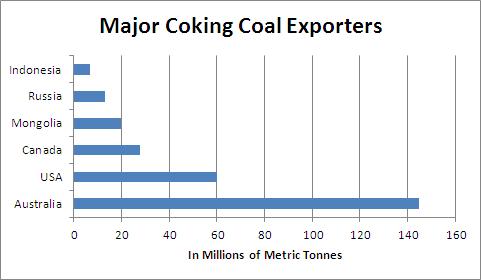 Source: Various sources, including Global Investment Strategist

Three years ago, China became a net coking coal importer and currently imports around 45 million metric tonnes of coking coal per year. The substantial increase in China's steel production has stoked the Middle Kingdom's demand for this vital raw material.
As the chart below indicates, China's steel production reached around 700 million tonnes last year. Even if China's economy slows this year, its total steel production should remain near this level. That means China will remain a net importer of coking coal, especially since its domestic resources are insufficient to meet demand.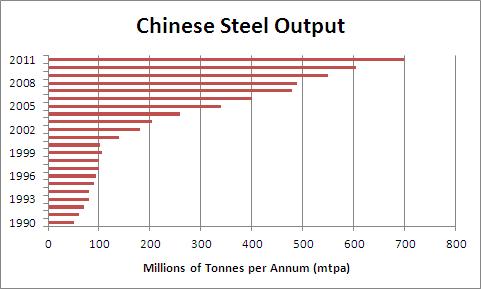 Source: China Iron & Steel Association
Mongolia has been a major beneficiary of China's demand for raw materials. And in the case of coking coal, it has even been able to challenge the mighty Australians. Just two years ago, for example, Mongolia had a 20 percent share of the Chinese coking coal market, but now it controls 40 percent and rising.
Within the next couple of years, Mongolia could eventually enjoy close to a 60 percent share of the Chinese coking coal market.
There are three reasons for Mongolia's rapid growth in market share. First, Mongolia enjoys proximity as the closest producer of coking coal to China. Second, it produces coal that is of high quality. Finally, Mongolian coal is substantially cheaper–by USD50 to USD60–than Australia's coal supply.
Mongolia only began to dominate the market within the past several years because the country's lack of infrastructure had been holding it back. And until recently, Mongolian companies were selling raw coal instead of washed coal.
But companies are now washing their coal, which has improved its quality and enabled them to command higher prices. Furthermore, the government has incentivized this industry's transformation by demanding lower royalties from washed coal versus raw coal.
Mongolia has a flat 5 percent royalty rate and a surtax royalty rate. The latter ranges from 1 percent to 5 percent for raw coal, and from 1 percent to 3 percent for washed coal. Beyond that, all "processed mineral products," such as washed coal, pay no value added tax (VAT).
Still, the country's lack of infrastructure is an ongoing concern for exporters. Currently, all Mongolian coal is exported to China on a road system that's often unpaved and literally comprised of tracks that vehicles have previously worn into well-traversed terrain. As such, transportation is extremely expensive, dangerous and slow.
This reality will not change overnight. In fact, the Mongolia Railway Authority's plan to build a rail system that links the country's mines with Russia and China has been stymied by bureaucratic delays and difficulty securing financing. The 1,200 mile rail system is projected to cost around USD5 billion. As Mongolian coal is sold net of transportation costs, the rail system will have a major impact on the profitability of Mongolia's coal stocks once it's finally built.
Mongolian Mining Corp (Hong Kong: 975, OTC: MOGLF) is my favorite way to gain exposure to this market. Indeed, the company is the largest producer of coking coal in Mongolia. Its main operation comprises open-pit mining of coking coal at the Ukhaa Khudag deposit located within the Tavan Tolgoi (TT) coal formation in South Gobi. The TT coal formation is one of the few largely unexploited sources of high-quality coking coal in the world and the closest premium hard coking coal resource to China.
In an effort to improve its coal's quality, Mongolian Mining Corp (MMC) has invested in building a coal handling and preparation plant (CHPP) that will allow it to process the coal on site.
Upon completion, the CHPP will have the capacity to wash 15 million tons of coal per year in all three of its modules. Since last June, the first 5 million ton module has been operational and the other two should be ready in the next year.
Although the company's primary market is China, MMC has also been working toward building the necessary transportation infrastructure in order to reach other markets too. Given that MMC is one of the lowest-cost coal producers in the world at around USD36 per ton, a reduction in transportation costs will be a further enhancement to its already high margins of 30 percent.
The company's coal has quality characteristics such as a high crucible swelling number (CSN) of 8.5, low sulfur of 0.6 percent, and ash content of 9.1 percent. MMC is constantly making improvements to its end product, so the company will be able to gradually command higher prices as it achieves broader distribution.
In the next four years, MMC expects to more than double its raw coal production from 7 million tons last year to more than 15 million tons. For more stock picks, check out my free Asian Stock Market Picks report