TATA Motors (NYSE: TTM): Can Momentum Be Sustained in 2012?
Tata Motors (NYSE: TTM) posted solid numbers in its most recent quarter largely because of the performance of its Jaguar Land Rover (JLR) division. JLR produced EBITDA (earnings before interest, taxes, depreciation and amortization) of around USD1.2 billion, with volumes up almost 37 percent year over year as the result of strong sales of Range Rover's new Evoque model.
The JLR division also succeeded in expanding margins by 20 percent due to three key factors: overwhelming demand for the lower-priced Evoque; the depreciation of the British pound against the US dollar; and the Chinese market's 16 percent contribution to JLR volumes.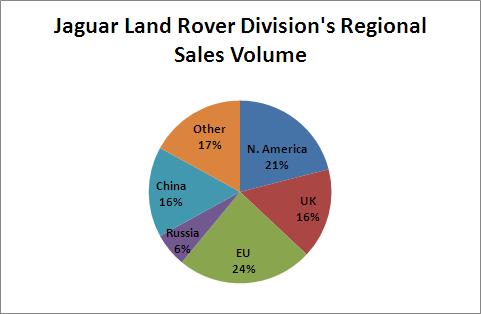 Source: Tata Motors
China remains JLR's main target market for future growth. In fact, the division doubled its footprint in the Middle Kingdom last year by opening 100 new dealerships. And the relative affordability of the newly launched Evoque means that China will be an important emerging market for this model. Indeed, the division boasts a full order book because of the Evoque, and 50,000 have been built to date.
Additionally, as I stated in Invest in the Emerging-Market Consumer in 2012, a positive surprise from India's economy will take the market sharply higher. Should this scenario play out, Tata Motors should benefit.
However, management portrays a mixed picture for global demand of premium cars, with forecasts of flat sales volumes in the UK and Europe, but some growth possible in North America and other countries.
Management attributed the decline in Land Rover's Freelander volume to capacity constraints at its Halewood plant in the UK, rather than slowing demand or cannibalization by the Evoque. Management says the division's manufacturing capacity will be strained over the next two quarters.
The company expects to make capital expenditures this year in excess of USD2 billion. Over the next five years, the company plans to introduce thirty new models along with redesigns of existing models, including overhauls of engines and bodies.
Although volumes increased on Tata's domestic business, margins declined because of high raw material costs and increased marketing expenses.
The company's domestic passenger cars division, which contributes around 21 percent to revenue, has long been a drag on earnings. Although Tata Motors is the third-largest passenger-vehicle manufacturer in India, the division only contributes between 5 percent and 6 percent to the bottom line. I expect this momentum stock to produce further gains in 2012.